Antonio de Santa Anna​​​​​​ was a military man, politician and Mexican dictator, being commander of the national army and president in various times.
He was born on February 21, 1794 in Xalapa, Veracruz. Of noble and rich family, studying in prestigious schools across Mexico and Europe.
He decided to join the Spanish army in New Spain until he reached Captain, when the war of independence began. Towards 1820 he directed the trigarante troops under the orders of General Iturbide and Commander Guerrero.
At the birth of the Mexican Empire, when the Emperor Agustin Iturbide, began to modify laws to continue as an Empire and not combertirse in the Republic, causing a rebellion led by Santa Anna.
He was named national hero after beating the Spanish in Tampico in 1829 and French in Veracruz in 1839, in that last losing his leg in battle. Being president several times including also when the war against Texas began.
In 1846 he returned to Mexico, to face the American invasion, fighting until 1848 when he went into exile and no longer had an army and support to confront the invader.
When he returned, he became dictator and wanted to be called (His Serene Highness), he was derogated, and he lived quietly being forgotten by the new socio-political generation of Mexico; and died in Mexico City in 1876.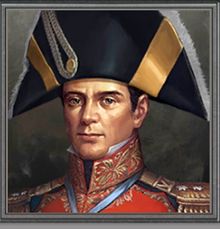 Community content is available under
CC-BY-SA
unless otherwise noted.